RCTC CONNECTING YOUR LIFE
---
Choose How to Safely Get Where You're Going
REAL-TIME TRAFFIC MAP
---
Use the interactive map legend below to check current status on lane closures, incidents, message signs, cameras, and chain controls.
STAY CONNECTED
---
Follow us online for the latest news and updates.
Go @Angels! Take @Metrolink to experience a night at the ballpark. https://t.co/rVJVICz5eX
#Angels #Rangers #AngelsExpress #Metrolink
Twitter feed video.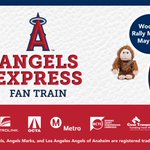 Load More...
RCTC shared a video.
7 hours ago
15 facts on the 15 Express Lanes. ... See MoreSee Less
Play
This Express lane is only for those who can afford to drive in it!
Load more