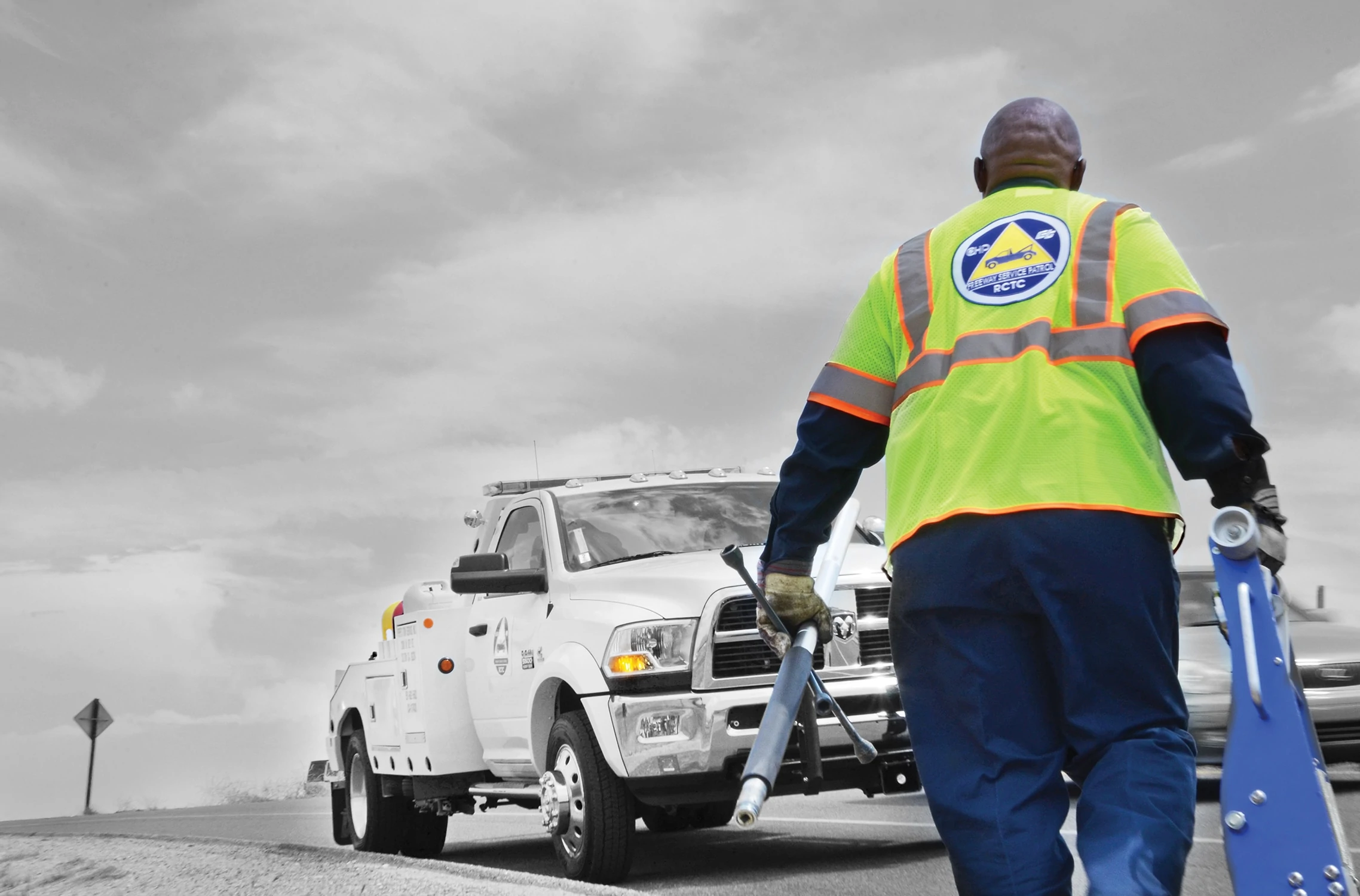 For 30 years, RCTC has funded Freeway Service Patrol service
The rush hour commute can be a challenge, even when there aren't any accidents or closures. A stalled car by the side of the road can snarl traffic for hours.
When it's you in that stalled car, your commute can turn into a nightmare.
Specially marked Freeway Service Patrol (FSP) tow trucks patrol the entirety of Riverside County's State Route 91, Interstate 15 from State Route 60 south to State Route 79/Temecula Parkway, State Route 60 from Milliken Avenue to Theodore Street, and the entirety of Riverside County's Interstate 215. Their goal is to assist stranded motorists and keep Riverside County highways moving.
The Freeway Service Patrol operates Monday through Fridays from 5:30 a.m. to 8:30 a.m. and 2:30 p.m. to 6:30 p.m., except on holidays. Friday afternoon service begins earlier and runs from 12:30 p.m. to 6:30 p.m.
FSP drivers will "jump start" your car if your battery is dead, refill your radiator and tape hoses, change a flat tire, or provide a gallon of gas if you run out. FSP drivers provide a variety of services at no cost. If the FSP driver cannot get your car going, they will tow it to a location approved by the California Highway Patrol (CHP) free of charge. FSP cannot tow you to a private repair facility or recommend other tow services or repair shops.
RCTC administers the program while the CHP provides supervision, training, and oversight of tow operators. Funding for the FSP program is provided by Caltrans and RCTC.
WHAT IF I HAVE CAR TROUBLE?
Move your vehicle to a median or shoulder out of traffic lanes. Stay inside your vehicle with your seat belt until help arrives. FSP drivers patrol the designated highways during operating hours and will spot you while roving. If you need assistance outside FSP operating hours or coverage areas and you are unable to reach private assistance, call 911 and CHP dispatch will connect you to rotational tow services (standard rates apply). Call 911 immediately if your car is unable to move from the lanes or if you are in danger.
HOW TO RECOGNIZE THE FREEWAY SERVICE PATROL? 
All FSP tow trucks in Riverside County are white and display the Freeway Service Patrol logo during service hours. The drivers wear blue uniforms and yellow safety vests with the same logo. All FSP drivers wear an identification badge on their shirts and are certified by the CHP.
WILL THE FREEWAY SERVICE PATROL TOW ME TO A PRIVATE REPAIR FACILITY?
No, FSP can only tow vehicles to designed locations approved by CHP. In addition, FSP cannot recommend other tow service companies or repair shops.
DO I NEED TO PAY OR TIP THE TOW TRUCK DRIVERS?
No, drivers are not allowed to accept gratuities or compensation of any kind.
HOW CAN I BECOME AN FSP TOW TRUCK VENDOR?
If you are interested in future contract opportunities, please visit our Doing Business page or register on Planet Bids to be notified of upcoming Request for Proposals (RFP).
If you drive along any of Riverside County's interstate freeways or state highways, you will see solar-powered Call Boxes throughout your trip. More than 300 centerline miles of roadway are equipped with yellow Call Boxes that can summon assistance should you have a freeway emergency.
All you need to do is open the door of the Call Box, lift the receiver and follow the directions printed on the door and as they appear on the screen.. The Call Box will connect you with an operator that will summon help for you as quickly as possible. Stay on the line, even if your call is not immediately answered. There is no need to hang up and try again. You will not have long to wait.
Call Boxes in Riverside County are funded through a $1 fee imposed on annual vehicle registrations.
Safety comes first. Never cross the freeway to reach a Call Box. Call Boxes are placed along freeways in pairs, so there should be a Call Box in both directions. Be sure your car is as far as possible on the shoulder. Exit the vehicle on the passenger side. Always look for a Call Box you can reach without crossing an on-ramp or off-ramp.